Les espècies exòtiques invasores (EEI) són una de les principals causes de pèrdua de la biodiversitat. Catalunya, degut a la seva localització, població i diversitat d'hàbitats i activitats és un dels territoris en el qual aquesta problemàtica és més acusada. Cal considerar que no totes les espècies invasores estan incloses a la legislació (catalogades) i que en aquesta figuren espècies que no poden ser considerades com a invasores a Catalunya. Leer más.
Detalles

Publicado: 02 Septiembre 2019
October 21st-24th, 2019, Barcelona (Spain). The course will include theoretical and practical lessons. We will use particular R packages, such as fuzzySim and modEvA, for 1) modelling species distributions based on available occurrence records; 2) evaluating the predictive capacity of these models using a varied set of measures that address different facets of model performance, such as discrimination, classification, explanatory power and calibration; and 3) incorporating natural uncertainty in analyses of species distributions, namely using fuzzy logic and formulas from quantum mechanics to assess similarity, diversity and change in biogeographical communities. 
Información sobre el curso aquí.
If you want to apply for scholarships please fill up the form below (only PhD students can apply).
Detalles

Publicado: 22 Agosto 2019
We are opening two 24-months postdoctoral position in biogeography, ecological modelling, community ecology and macroecology, at the Univ. Grenoble Alpes – CNRS, France. We are looking for outstanding young (or not so young) researchers focusing on understanding biodiversity distribution, dynamics and structure, under past, current and/or future conditions, and/or the relationships between biodiversity and ecosystem functioning. For informal inquiries, please contact us: Wilfried Thuiller.  Esta dirección de correo electrónico está siendo protegida contra los robots de spam. Necesita tener JavaScript habilitado para poder verlo.  Leer más.
Detalles

Publicado: 18 Agosto 2019
Urbanisation threats to an indigneous frog population has forced the environment agency Ambjent Malta to carry out rehabilitation works by hand at the Wied Liemu water channel in Rabat. The painted frog is Malta's only amphibian but the species has shown a worrying decline with the biggest threat coming from the destruction of its habitat. Leer más.
Detalles

Publicado: 18 Agosto 2019
Los técnicos del Parque Natural del Delta l'Ebre confían poder dar por erradicada la rana toro como especie invasora el próximo verano. En otoño hará un año que no se detecta ningún ejemplar adulto o renacuajo ni se les escucha croar pero dejarán pasar un nuevo ciclo reproductivo para asegurarse. El confinamiento del núcleo infestado, con una valla física que se construyó a contrarreloj, fue la clave para aislar los ejemplares que algún particular liberó en la zona del filtro verde y que se reprodujeron. También se salinizó el espacio. Esta especie tiene poca resistencia al agua salada. Leer más.
Detalles

Publicado: 17 Agosto 2019
Actualmente, en el ámbito vasco-navarro, la única población conocida de la especie se restringe a una localidad alavesa próxima a Navarra. Leer más.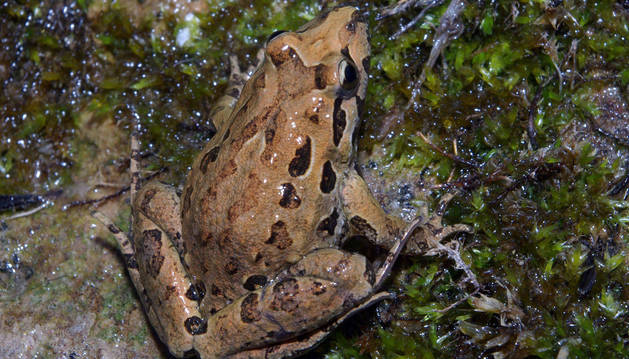 Detalles

Publicado: 17 Agosto 2019