Urbanization can cause species to adjust their sexual displays, because the effectiveness of mating signals is influenced by environmental conditions. Despite many examples that show that mating signals in urban conditions differ from those in rural conditions, we do not know whether these differences provide a combined reproductive and survival benefit to the urban phenotype. Our findings thus reveal that urbanization can rapidly drive adaptive signal change via changes in both natural and sexual selection pressures. Artículo en español . Leer más (fuente original). 
Detalles

Publicado: 12 Diciembre 2018
Bisbal-Chinesta, J.F., Blain, H.-A. 2018. Long-term changes in composition and distribution patterns in the Iberian herpetofaunal communities since the latest Pleistocene. Quaternary Science Reviews, 184: 143-166. https://doi.org/10.1016/j.quascirev.2017.06.010. This research presents the first approach to the Iberian paleobiogeography of the different species of amphibians and reptiles from the Late Pleistocene (MIS 3) to present times, based on a comparative synthesis of the latest research published in recent years and the fossil record of the 58 archaeo-paleontological sites with significant assemblages. Leer más.
Detalles

Publicado: 09 Diciembre 2018
Acaba de salir el Volumen 32 (2018). Podéis consultar el contenido y descargar los artículos en el siguiente enlace.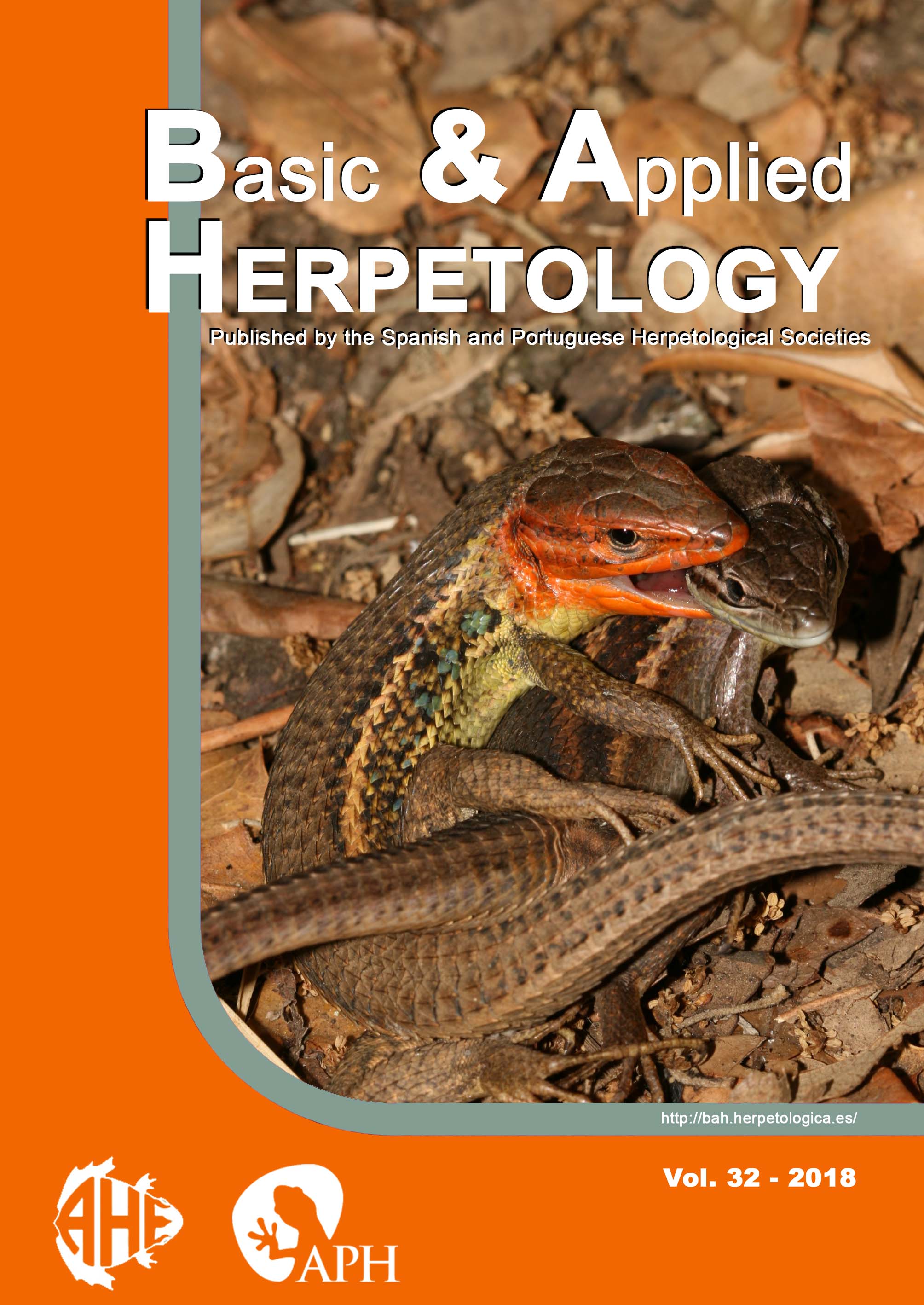 Detalles

Publicado: 08 Diciembre 2018
Asian geckos were observed running over water at nearly a meter per second, as fast as on land. Lab experiments show how. They get support from surface tension but also slap the water rapidly with their feet. They also semi-plane over the surface and use their tail for stabilization and propulsion. They thus sit between insects, which use only surface tension, and larger animals, which run upright via foot slapping alone. Leer más.
Detalles

Publicado: 06 Diciembre 2018
Con la muerte del solitario George, que superó los 100 años y alcanzó los 75 kilos, desapareció toda una especie, Chelonoidis abingdonii, que vivía en la isla de Pinta en Galápagos (Ecuador). Desde antes de su extinción, su ADN ha estado en el punto de mira de la comunidad científica. Leer más.
Detalles

Publicado: 05 Diciembre 2018
A new species of blunt-nosed viper of the genus Macrovipera is described from the central and southern parts of Iran on the basis of morphological and molecular examination. The mitochondrial Cytb gene was used to investigate phylogenetic relationships amongst the Iranian species of the genus Macrovipera. A dataset with a final sequence length of 1043 nucleotides from 41 specimens from 18 geographically distant localities across Iran was generated. The findings demonstrated that two major clades with strong support can be identified within the genus Macrovipera in Iran. Leer más.
Detalles

Publicado: 03 Diciembre 2018