The project aims to support the creation of monitoring networks and tools and a sustainable management plan for marine turtles and their habitats in the Mediterranean, through the implementation of harmonized monitoring protocols in line with the EcAp guidelines, and by adopting a participatory and integrated approach that consider both local socio-economic and environmental contexts. The activities planned are in line with the main mission of SPA/RAC. This is to assist the contracting Parties of the Barcelona Convention to fulfil their obligation under the SPA/DB Protocol, the Strategic Action Programme for the conservation of Biological Diversity (SAP BIO) in the Mediterranean Region, and the Regional Action Plan for the conservation of marine turtles in the Mediterranean. Leer más.
Detalles

Publicado: 24 Abril 2019
We are just back from a coordination meeting with our partners of the project "Conservation of sea turtles in the Mediterranean" which is supported by the MAVA Foundation. We discussed progress in achieving the project's 5 strategies and shared plans on our upcoming activities in 2019. The project is investigating new areas where sea turtles are extending their nesting activity, monitoring know nesting sites, placing satellite tracking devices, building capacity among managers to study and protect turtles, elaborating national action plans where they are lacking, and much more! MEDASSET presented research results from our survey in Albania in 2018 and our planned activities to help reduce sea turtle consumption in Egypt. We warmly thank Dekamer for hosting us at amazing Dalyan in Turkey! Leer más.
Detalles

Publicado: 24 Abril 2019
Durante o ano 2.018, o atlas de anfibios e réptiles de Galicia acadou un total 21.876 datos de anfibios e réptiles, dos cales 5.079 (23,2%) son datos novos respecto ó atlas publicado. De anfibios acadáronse 13.330 datos e de réptiles 8.546 datos totais. No informe realizado, de libre acceso e descarga, podemos ver diversas novidades en especies de escasa distribución e incluso a introducción de poboacións foráneas como a lagartixa dos muros (Podarcis muralis) na cuadrícula NG27, no Concello de Vigo, e que se suma á localizada no ano 2017 no Concello de Coristanco. A Sección de Herpetoloxía ten que agradecer a todas e cada unha das 422 persoas ou entidades que aportaron algún dato dende o inicio do proxecto, alá polo ano 2005, ata o ano 2018, sen eles non houbera sido posible este proxecto, realizado integramente de xeito altruista. Ir al enlace.
Detalles

Publicado: 21 Abril 2019
The behavioural traits of the native species, but not the invasive species, were correlated. A lack of correlation between behavioural traits, as well as a lack of repeatability in two of the three behavioural traits, suggests higher levels of behavioural plasticity in P. sicula, which may also explain the success of this lizard during invasions. Our experiment highlights the potential importance of behavioural traits in invasions and provides insight into why P. sicula is such a successful invader. Leer más.
Detalles

Publicado: 21 Abril 2019
260 sites have contributed data, confirming a significant decline, on average, across sites with small populations, while the few with large populations (<10 % of sites) are weakly increasing. If these trends continue, within 15‒20 years, adders will be restricted to a few large population sites, significantly increasing the extinction risk for this priority species in the UK. Leer más.
Detalles

Publicado: 18 Abril 2019
Central China's Hunan Province has stopped operation of 34 hydropower plants and demolished 10 dams in the past two years in a key reserve of giant salamanders. Municipal officials of Zhangjiajie, a popular tourist destination, said they planned to demolish most of the 88 hydropower plants, mainly small ones built before the establishment of the National Giant Salamander Nature Reserve. Leer más.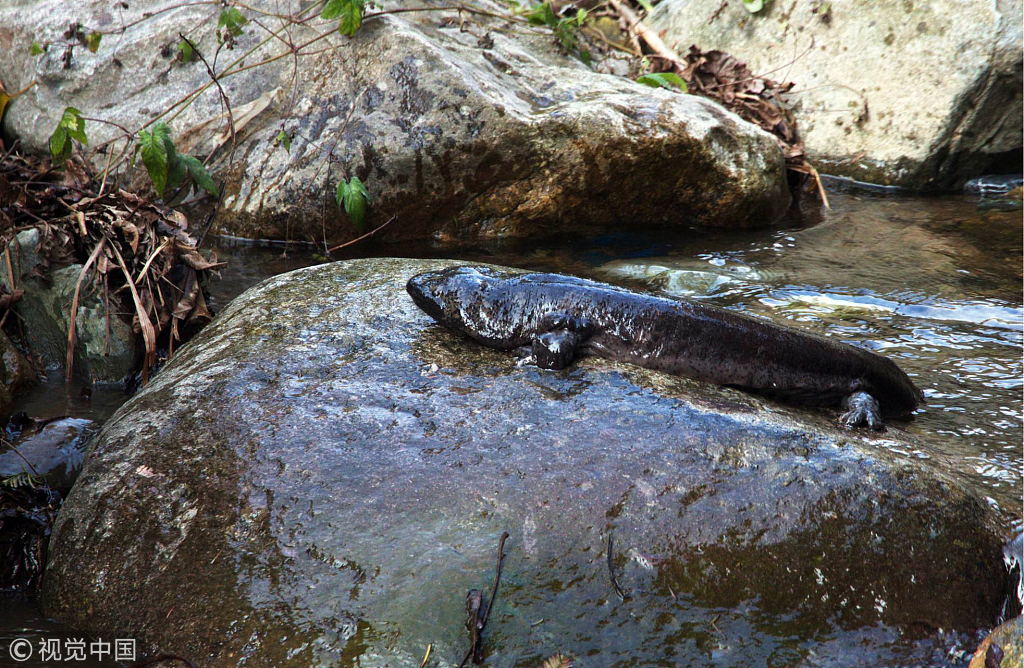 Detalles

Publicado: 18 Abril 2019